Shocking "Fit For Work" Deaths Across Britain Spark U.N. Investigation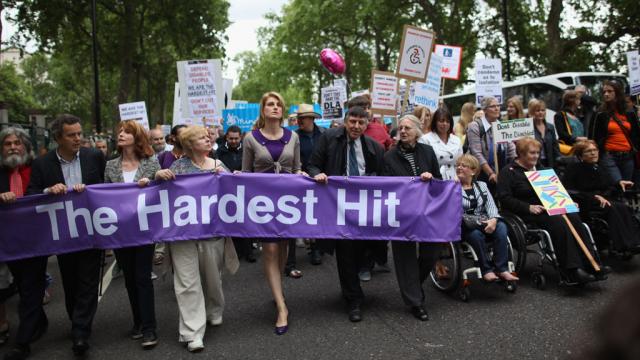 The United Nations is investigating the British government over human rights abuses after a report published last week showed that over over 2,380 people died within six weeks of being declared "fit for work" by the Department of Work and Pensions (DWP) between December 2011 and February 2014.
The figures were released following requests under the U.K. Freedom of Information Act. The Centre for Welfare Reform has found that disabled people have been hit 19 times harder by austerity cuts than the rest of the U.K. population.
In a recent shocking case, Moira Drury died just over a fortnight ago after the DWP claimed she was ineligible for disability benefits. "She had so many different medical problems," Nichole Drury, Moira's mother, told Occupy.com. "She had a head injury in the 1980s, which left her with some right-sided weakness and paralysis. She had epilepsy as a result of the head injury. She had diabetes, she had bladder problems and she had depression. By 2014 she couldn't get further than a few steps without a wheelchair or mobility scooter."
Moira was unable to attend a Work Capability Assessment appointment in January due to a severe bout of flu. Two weeks later, she was again unable to attend a rescheduled appointment – this time due to diarrhea and vomiting. At the time, unbeknownst to her, she was also suffering from cancer.
"We later discovered that these bouts of diarrhea and vomiting she was having were probably due either to secondary cancer in the bowel or poor blood supply to the bowel," explained Nichole. After the second missed appointment, the DWP sent Moira a letter informing her that her benefits would be stopped as they deemed her reasons for non-attendance invalid.
"We know the DWP had up-to-date medical notes from my mother's [general practitioner] saying she was unfit to work," Nichole said. "When she gave up on her appeal against the decision at the beginning of the year and decided to open a new claim, the DWP told me they were waiting for forms back from her GP. When I rang the GP's surgery they said they hadn't received the forms." Nichole was surprised at the speed and finality of the DWP's decision.
"You could be forgiven for thinking this was a deliberate attempt to obstruct someone from receiving help which they are eligible to receive," she added. "It makes no sense to conclude that someone who has previously been deemed worthy of Employment Support Allowance but is too ill to attend appointments must therefore be fit for work. It's illogical. [The DWP] claim they are able to organize for someone to visit a claimant if they're too poorly to get to an appointment, but that's not what they did for my mother. There were so many opportunities to look at her case properly but nobody did."
Moira died of organ failure while waiting for her case to be resolved.
Anita Bellows, a spokesperson for the campaign group Disabled People Against Cuts, said "the figures are shocking but they are only the tip of the iceberg."
"The sanction rate for disabled people has tripled during the last year," she told Occupy.com. "The pressure to target claimants is still present, but with a reduction in the number of unemployed people, disabled people are now in the firing line. Over 3,000 disabled people are being sanctioned every month.
"DWP recognizes that sanctions have a negative effect on the health of non-disabled people, but for disabled people, this impact can be tragic," she added, stressing that there are additional hidden figures due to the number of disabled people who have "slipped under the radar."
"When a claimant is found fit for work, unless they appeal or go on claiming Jobseekers Allowance, or move on to another benefit, they disappear. That is the case for 50% of the disabled people deemed fit for work [by the DWP], and it is safe to assume that some of them would have been too unwell to appeal or to meet the conditionality of the Jobseekers Allowance [benefit]. It is also safe to assume that the mortality rate for this group is high – but DWP is not monitoring what happens to Employment Support Allowance claimants once they have been found fit for work."
Responding to public outcry over the report, a DWP statement said: "The mortality rate for people who have died while claiming an out-of-work benefit has fallen over a 10-year period. This is in line with the mortality rate for the general working-age population. The government continues to support millions of people on benefits with an £80 billion working-age welfare safety net in place."
Even as the UN announced over the weekend that it would investigate the U.K. government over the deaths, the DWP remained closed off to any further questions by the media.
In terms of the Workplace Capability Assessment, Bellows from Disabled People Against the Cuts sees many problems that have yet to be addressed.
"There are so many flaws that it is difficult to know where to start," she said. "Certainly the descriptors are one of the issues – these are a set a rigid questions against which a claimant will be scored. For example, can you lift an empty cardboard box? Or pick up a coin on the table? If you can do this, it shows that your functionality is not totally affected and that therefore you have some potential for work. You don't score any point.
"These descriptors are also enshrined in the law, which means there is no flexibility around them. If you score 14 points, you are not entitled to Employment Support Allowance, but with 15, you are."
The tests also fail to take into account the fact that sick and disabled people have "good" and "bad" days, she added.
"The decision is based on a 20-minute assessment, which does not take into consideration how a [person's] condition can fluctuate from one day to the other. Assumptions are being made based on how a claimant behaves, reacts or interacts on the day of the assessment and does not look beyond this."