Help raise £2,000 to Create Sheffield Edible Park growing space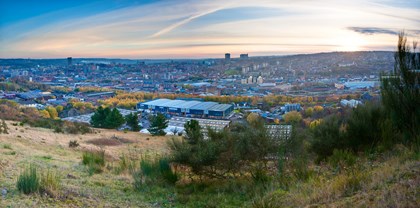 What's the problem we're trying to solve?
I hope to be able to turn parts of Sheffield's old Ski Village (which sadly burned down in an Arson attack) into community gardens and growing spaces. I would ensure that the debris remaining from the abandoned village are upcycled into new strucures, such as raised plant beds, benches, food growing spaces, artwork and innovative, inspirational new forms, so as to tackle the mess problem, without having to waste the resources they can offer for productive projects like this edible park idea.
Why do we care about this project?
I am saddened by the volume of derelict, decaying buildings and sites in Sheffield, and constantly wonder how we could turn these redundant spaces into productive, economically and environmentally sound places. I am passionate about growing food on allotments, upcycling materials and reducing waste by putting discarded materials to new uses. I feel that transforming the lost Ski Village into a shared growing/garden space for anyone to enjoy would be far more positive, and will allow integration.
How will the money be spent?
I have estimated that we will need around £1,000 for waterproofing materials (approx 4 sheets of Tarpaulin), paint, drill bits, nails, an axe, one hammer, about three good trowels, two good spades and one hoe. We will also need to test the soil quality before planting, using PH testing kits. Fertilizer and Slug Killer may be required also, which I estimate we will need a further £250 for alltogether.
When will we see the difference?
We would begin work digging the beds and testing the soil quality immediately. Meanwhile, we have a timetable ready to start indoor sowing of seeds, month by month. We will allow the seedlings to grow until they can be planted outdoors, in the new beds we will have by this time built. Indoor seed sowing begins in January 2015, and the process of planting different crops according to season will continue up until September 2015. Supporters will see progress by at least April 2015.
[KC Editors note: Something nice popped in my feed that was happening near me so I thought I would share it here. Kickass-Cookies is not affiliated with this project.]